7 inch LCD-TFT module (PH720128T003) with MIPI-DSI interface, touch capacitive panel controller and integrated DC/DC converters
SL-TFT7-TP-720-1280-MIPI
Screen size 7 inch
Display matrix size 1280×720 px
LCD-TFT RGB technology
MIPI-DSI interface (2 lanes)
Built-in capacitive touch panel and TP controller (I2C)
Bulit-in LED backlight
Single rail +3.3V or +5V power supply
Operating temperature -20÷+70°C
Fully compatible with VisionCB-STD equippped with MIPI-DSI interface (FPC30 A-A cable)
Integrated DC/DC converter module (SL-ADP-TP-720-1280-MIPI)
PH720128T003-ZBC02 Powertip high quality 7 inch RGB LCD-TFT display module with MIPI-DSI embedded display interface, built-in capacitive touch panel and integrated touch panel controller (I2C). Module SL-TFT7-TP-720-1280-MIPI contains all DC/DC  converters that are necessary for single rail power supply (3.3V or optionally +5V).
LCD-TFT display matrix size is 1280×720 pixels (RGB, 24 bits), communication and data interface are TTL-LV (3.3V) compatible.
FPC 30-pin flat cable (A-A) is included.
Features
SL-TFT7-TP-720-1280-MIPI
Module
Input voltage
single +3.3V or 5V/<550 mA (incl. backlight)
TP interface voltage
3.3V (LV-TTL)
Video interface voltage
MIPI-DSI
Display
Screen size
7 inch
Resolution
1280 x 720 px (RGB)
Display active area
152.32 x 89.2 mm
Operating temperature
-20÷+70°C
Video interface
MIPI-DSI (2 lanes)
Display module
Powertip PH720128T003-ZBC02
Touch panel
Type
Capacitive
Controller
FT5426
TP interface
I2C (3.3V)
Mechanical Dimension
Module size
189.32 x 120.24 x 5.31 mm
Mechanical Connector
Connector
FPC30, 1:1 compatible with:
VisionCB-STD carrier boards equipped with MIPI-DSI connector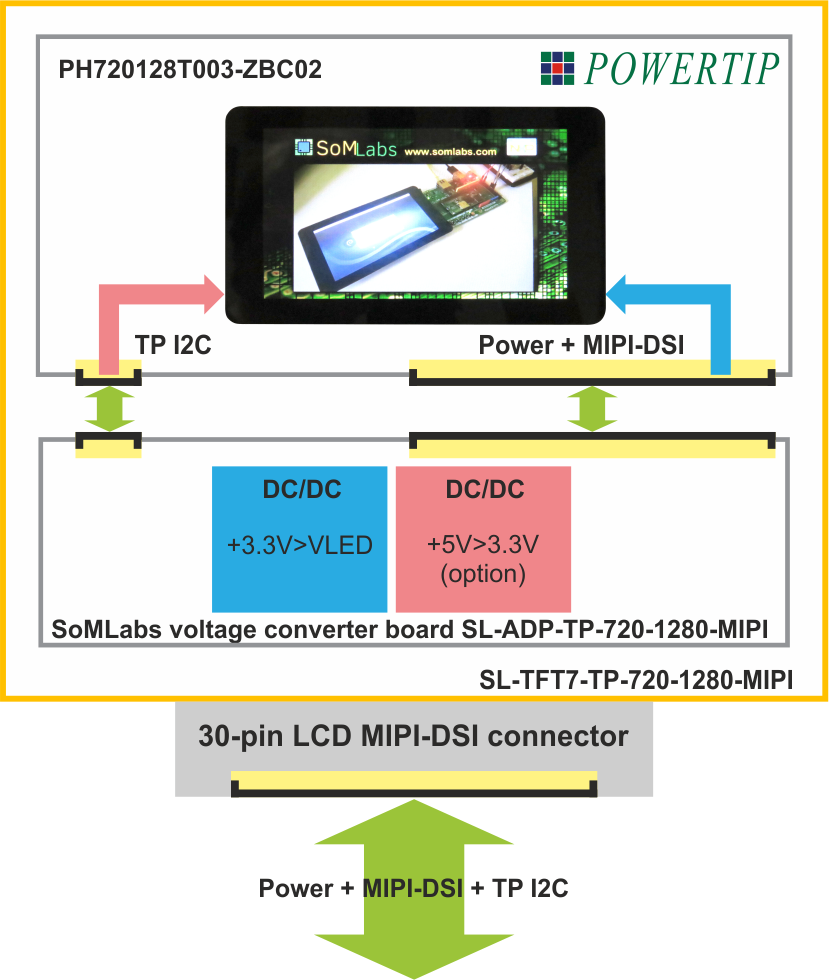 7 inch LCD-TFT module (PH720128T003) with MIPI-DSI interface, touch capacitive panel controller and integrated DC/DC converters
SL-TFT7-TP-720-1280-MIPI
VisionCB-8M-STD is a carrier board for the VisionSOM family of computer-on-modules which are powered by NXP i.MX8Mmini heterogenous, multimedia processors
VisionCB-STM32MP1-STD is a carrier board for the VisionSOM family of computer-on-modules which are powered by ST STM32MP1 processors