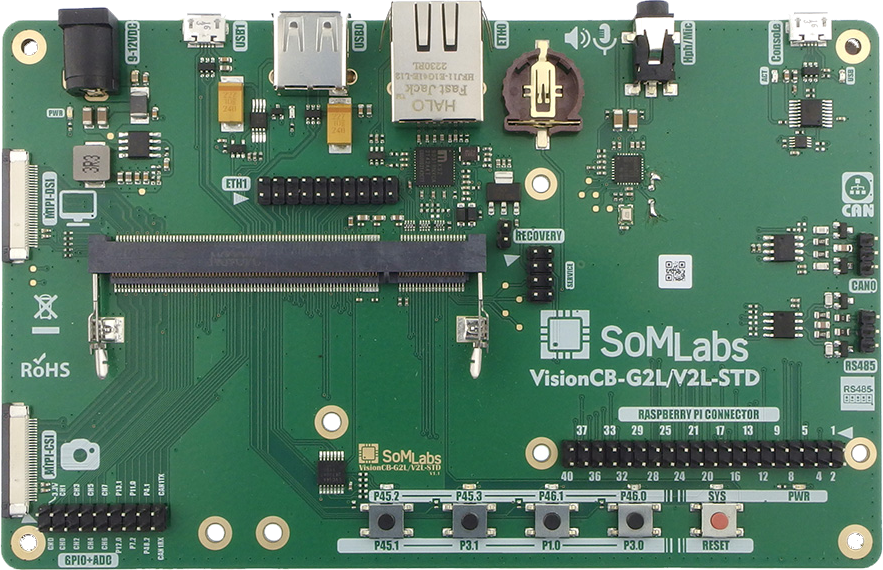 VisionCB-x2L-STD
Carrier Board for VisionSOM-V2L and VisionSOM-G2L Module family
Carrier Board (Base Board) compatible with the VisionSOM-V2L and VisionSOM-G2L family of modules
Ready-to-use development systems for building applications based on the VisionSOM-V2L and VisionSOM-G2L modules
MIPI-DSI (up to 4 lanes) LCD display interface
MIPI-CSI (up to 4 lanes) camera interface
CAN physical layer and connector on-board
RS485 physical layer and connector on-board
Communication interfaces (USB 2.0 host and OTG, 10/100/1000 Mbit Fast Ethernet)
Well-suited for applications in industrial automation
Raspberry Pi compatible connector
Ideal for industrial IoT, multimedia and embedded applications
Built-in Linux console vCOM port
The VisionCB-x2L-STD (with SOM equipped with Renesas RZ/V2L and RZ/G2L MPUs compatible) is a carrier board for the VisionSOM-V2L and VisionSOM-G2L family of computer-on-modules which are powered by dual-core Renesas MPUs (2 x ARM Cortex-A55+ Cortex-M33). A carrier board, together with a System on Module (SoM), makes a complete development platform similar to SBC. The carrier board houses the most common interfaces such as USB, Ethernet, CAN, RS485, audio codec, etc. A large variety of interfaces allows to use it as both a complete development platform or as a stand-alone end-product.
The carrier board connects with the SoM via a standard SODIMM connector, comaptible with both modules: VisionSOM-V2L and VisionSOM-G2L. The VisionCB-x2L-STD is equipped with a simple user interface consisting of 4 buttons and 4 LEDs. VisionCB-x2L-STD carrier board is also equipped with a large number of popular peripherals, including:
RS485,
CAN,
10/100/1G Ethernet,
MIPI display and camera connectors,
serial console port on USB vCOM.
Features
VisionCB-x2L-STD
SoM Interface
SoM Interface
SODIMM200
SoM Type
VisionSOM family of modules based on Renesas dual core Cortex-A55 + Cortex-M33 cores (RZ/V2L and RZ/G2L MPU families)
Debug Connectors
vCOM (Linux console port)
Expansion Connectors
Raspberry Pi compatible connectors
2x20 Pin Header (Male)
2nd Eth GMII channel
2x10 Pin Header (Male)
ADC/GPIO Inputs
2x9 Pin Header (Male)
Communication Connectors
Ethernet
1x 10/100/1000Mbit/s, RJ45
USB Host
1x Type A connectors
USB-OTG
1xMicroUSB connector
Console
1x MicroUSB connector
Display and camera
MIPI-DSI interface
30-pin FFC/FPC connector
MIPI-CSI interface
30-pin FFC/FPC connector
User Interface
4 User pushbuttons
1 System pushbuttons
4 User LEDs
4 System LEDs
Power Supply
DC connector
Input Voltage 9-12V DC
Temperature Range
Consumer
0 to +70°C
Mechanical Dimension
Board Size
160mm x 100mm x 21mm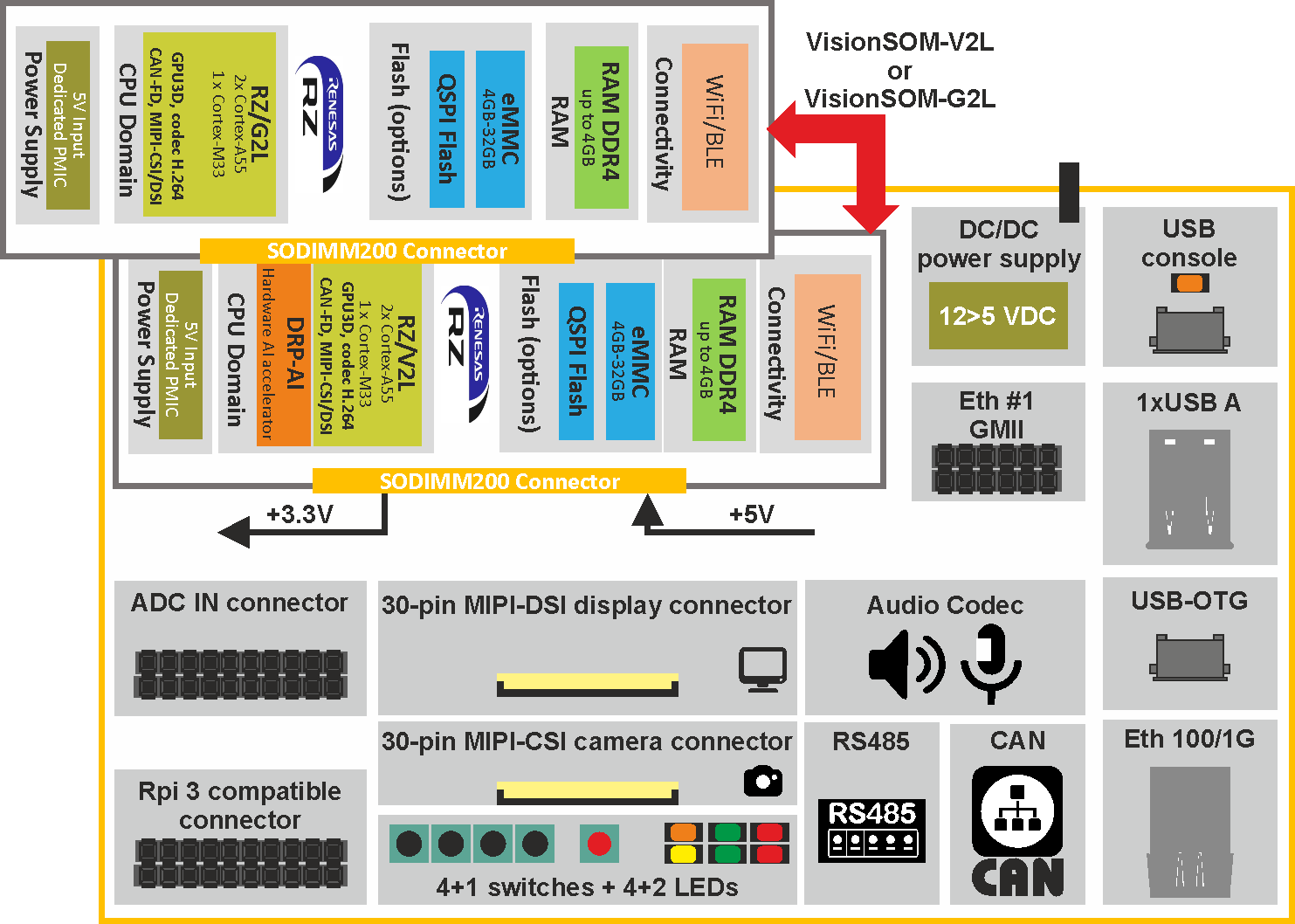 VisionCB-x2L-STD
Carrier Board for VisionSOM-V2L and VisionSOM-G2L Module family