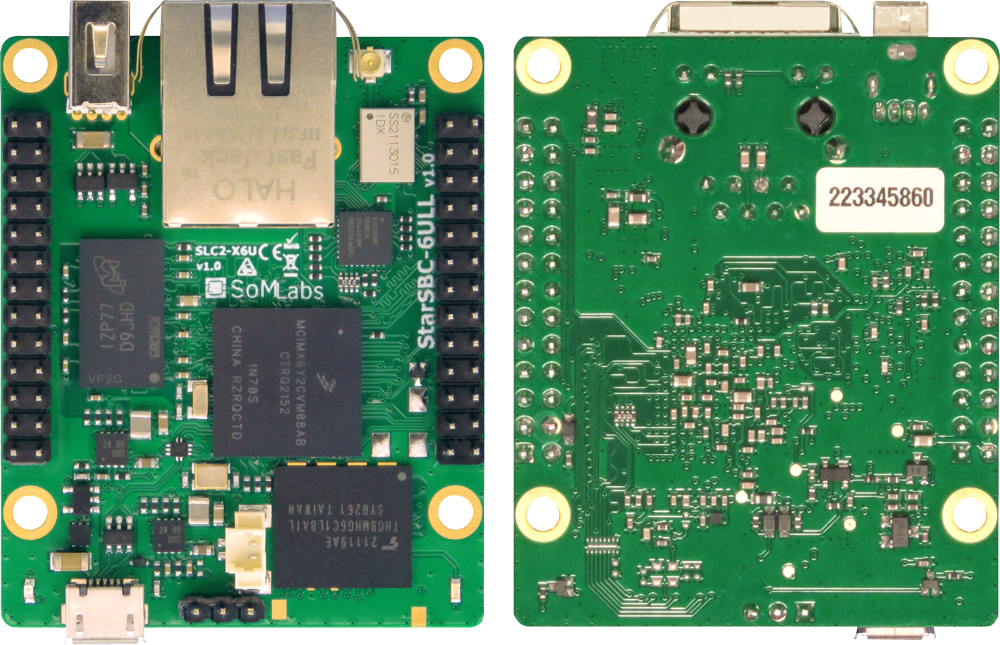 StarSBC-6ULL (SLC2)
Cortex-A7 industrial IoT Single Board Computer (SBC) Sensor Hub with Ethernet PHY on-board
Powered by NXP i.MX6ULL application processor
Single core ARM Cortex-A7 (at speed up to 900MHz)
Up to 1GB DDR3L
Up to 32GB eMMC
Dual USB interfaces (host and OTG)
1x 10/100 Ethernet (with PHY on-board)
Optional Murata 802.11b/g/n Wi-Fi and Bluetooth v5.1 module
Power-efficient and cost-optimized solution
Ideal for industrial IoT and embedded applications
Yocto support
The StarSBC-6ULL SBC (Single Board Computer) is small but powerful IoT Sensor Hub, optimized for operation in applications requiring a large number of communication interfaces. The StarSBC-6ULL is equipped with on-board PHY 10/100 Mb/s Ethernet interface, Murata 1DX radio module (integrated WiFi/BLE), USB host and USB-OTG interfaces. The StarSBC-6ULL supports connections to a variety of interfaces: I2C, SPI, UART and CAN. Additionally the StarSBC-6ULL module is equipped with easy to use 2×26 pin connectors with  40 GPIOs for any use in user application.
The StarSBC-6ULL supports industrial grade embedded applications.
Note: the StarSBC-6ULL can be optionally equipped with communication expander module SLH2-comm (picture below), which is equipped with 2 x CAN, 2 x RS485, 2 x RS232 physical layers interfaces.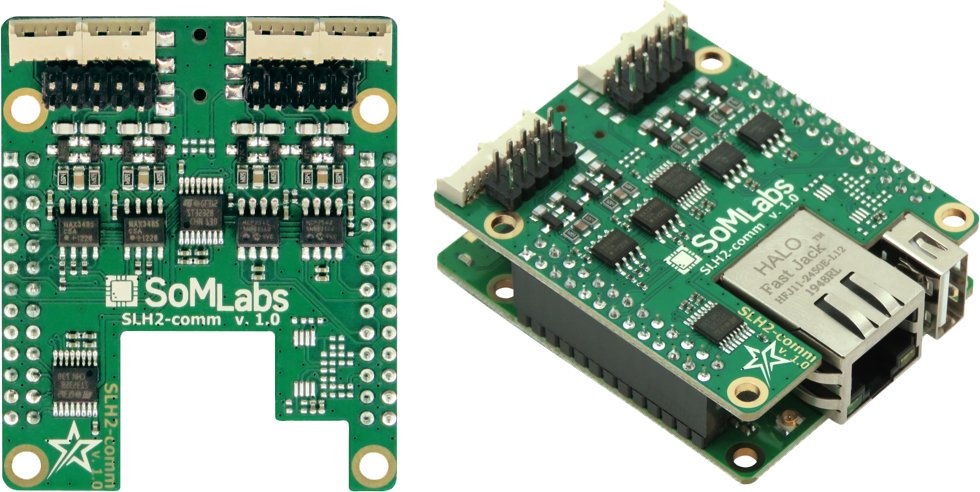 The StarSBC-6ULL and dedicated communication hat – SLH2-comm
Features
StarSBC-6ULL
CPU
CPU Name
NXP i.MX 6ULL
CPU Type
Cortex-A7
CPU Cores
1
CPU Clock (Max)
900MHz
Memory
RAM
64...512MB (max. 1GB)
eMMC
4...32GB
Networking
Wi-Fi
Wi-Fi 802.11b/g/n
Bluetooth
Bluetooth v5.1
Ethernet
1x 10/100Mbit/s (Ethernet PHY on-board)
Connectivity
I2C
up to 4 channels
SPI
up to 4 channels
CAN
up to 2 FlexCAN
UART
up to 8 channels
USB
2 x USB2.0 OTG Host/Device
Another functions
RTC
built-in (requires external battery)
GPIO
40 lines
Speaker
small electromagnetic speaker
LED
two user LEDs
Audio
Audio interfaces
stereo MQS
Security
Advanced Security
AES-128, ARM TrustZone, RNG
OS Support
LINUX
Yocto, Debian, Buildroot
Temperature Range
Industrial
–40 to +85°C (without Wi-Fi/BLE)
Extended
–25 to +70°C (with Wi-Fi/BLE)
Consumer
0 to +70°C
Power Supply
Input Voltage
5.0V DC
Mechanical Dimension
SOM Size
46 x 60 x 17 mm
Additional Connectors On-board
Antenna connector for Wi-Fi/BLE
U.FL
USB
MicroUSB A/B (OTG) and USB A
Ethernet
RJ45
GPIO
2x26 pin (2,54 mm)
Console
1x3 pin (2,54 mm)
External RTC battery
Molex 53398-0271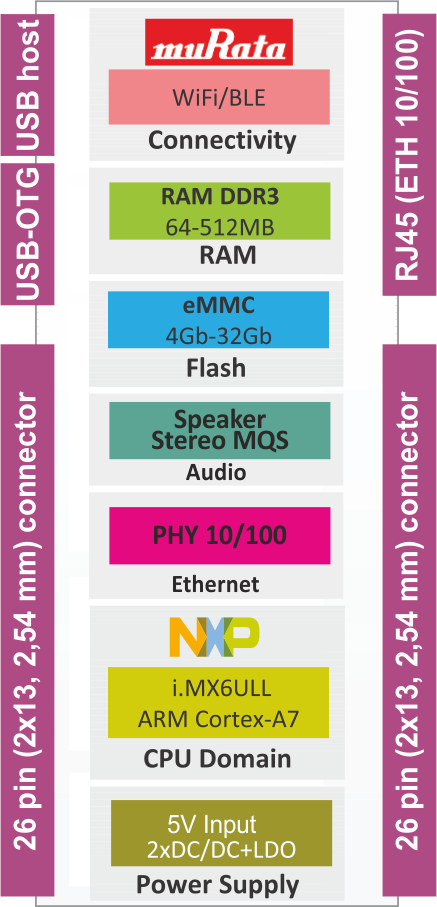 StarSBC-6ULL (SLC2)
Cortex-A7 industrial IoT Single Board Computer (SBC) Sensor Hub with Ethernet PHY on-board
Multiprotocol communication interface for StarSBC-6ULL equipped with RS232, RS485 and CAN physical interfaces
SLC
2
X6
Y2
_
528C
_
64R
_
04GE
_
0SF
_
C