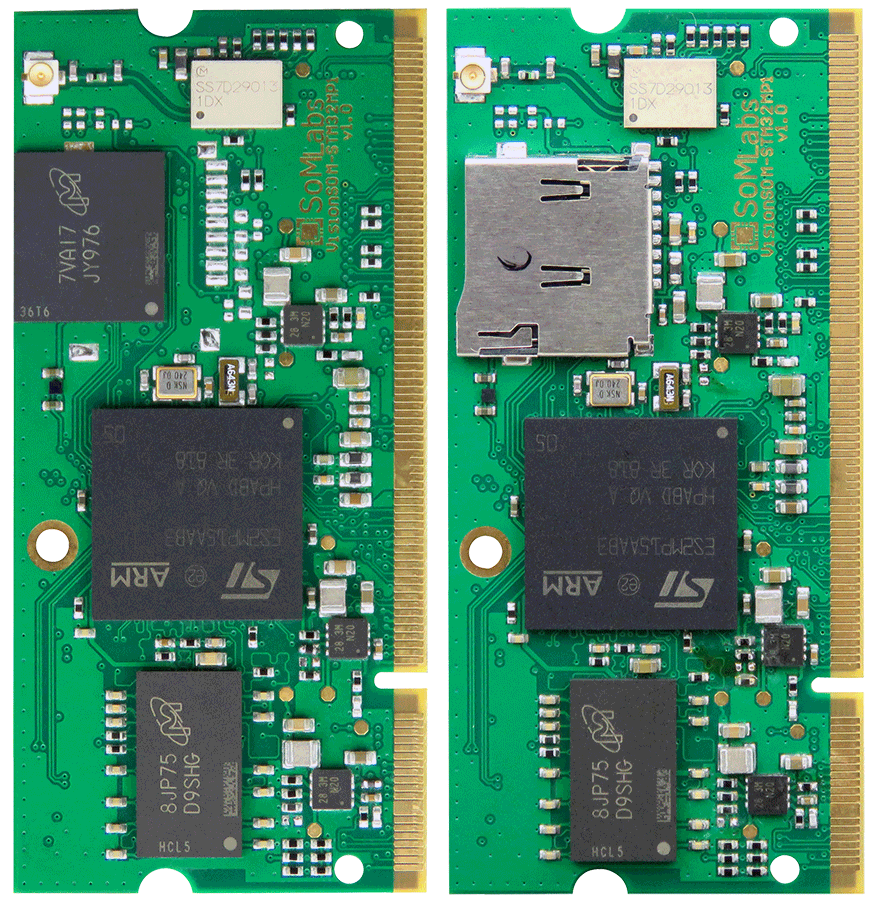 VisionSOM-STM32MP1 (SLS18)
STM32MP1 STM ARM Cortex-A7 dual cores and ARM Cortex-M4 industrial SoM computer
Powered by STMicroelectronics STM32MP1 application processor
Single or dual ARM Cortex-A7 cores (at speed up to 800MHz)
ARM Cortex-M4 core (at speed up to 209MHz)
Up to 1GB SDRAM DDR3L
Up to 32GB eMMC / uSD memory card
Vivante GPU 3D/OpenGL ES2.0
MIPI-DSI interface
up to 14 bits camera interface
Optional Murata 802.11b/g/n Wi-Fi and Bluetooth v5.1 module
Power-efficient and cost-optimized solution
Ideal for industrial IoT and embedded applications
Integrated security features
OpenSTLinux support
Buy online
The VisionSOM-STM32MP1 family is a SODIMM-sized SoM based on the STMicroelectronics STM32MP1 (by default STM32MP157) application processor. The processor features a heterogeneous single or dual ARM Cortex-A7 cores together with an ARM Cortex-M4 core as well as a 3D Graphics Processing Unit (GPU) Open GL 2.0 ES compatible.
The dual Cortex-A7 and single Cortex-M4 based VisionSOM provides full flexibility to support real time application.
The VisionSOM-STM32MP1 is a general-purpose highly integrated SoM (System on Module). Module featuring high computation power and 802.11b/g/n Wi-Fi and Bluetooth v5.1 connectivity. The option of integrated, fully certified Wi-Fi and Bluetooth module simplifies the carrier board. The VisionSOM-STM32MP1 provides a variety memory configuration including flexible range of DDR3L, eMMC and SD memory card that meets our customers requirements.
The SoM supports connections to a variety of interfaces:
two high-speed USB on-the-go with PHY,
10/100 Ethernet,
audio,
display with touch panel and serial interfaces.
In addition, the system supports industrial grade embedded applications.
Features
VisionSOM-STM32MP1
CPU
CPU Name
STMicroelectronics STM32MP1
Application Domain
Single or dual ARM Cortex-A7 cores (at speed up to 800MHz) 
Real Time Domain
ARM Cortex-M4 core (at speed up to 209MHz)
Memory
RAM (Application Domain)
up to 512MB DDR3L
Flash (Application Domain)
up to 32GB eMMC
Display
Interface
MIPI-DSI 2-lane display interface/24-bit parallel RGB
GPU
3D GPU: Vivante - OpenGL ES 2.0
Camera
Interface
8- to 14-bit camera interface
Networking
Ethernet
10/100M and WiFi 802.11b/g/n Wi-Fi
Connectivity
I2C
up to 6 channels
SPI
up to 6 channels
USB
2x USB 2.0 high-speed Host+ 1 × USB 2.0 full-speed OTG
ADC
2x 16 A/DC converters
DAC
2x 12-bit D/A converters
BLE
Bluetooth v5.1
Audio
Audio interfaces
4x SAI (stereo audio: I2S, PDM, SPDIF Tx)
Security
eFuses
Yes
RNG
Yes
TrustZone® peripherals
Yes
Tamper Detection
Yes
Secure Boot
Yes
OS Support
Application Domain
Linux (OpenSTLinux)
Real Time Domain
FreeRTOS
Temperature Range
Industrial
–40 to +85°C
Power Supply
Input Voltage
5V DC
Mechanical Dimension
SOM Size
67mm x 32mm x 4mm
Mechanical Connectors
Antenna connector for Wi-Fi/BLE
U.FL on SOM
SoM Footprint
SODIMM200
Other
Altium Designer's library file is available for all SoM variants (SCH and PCB)
Development Kit for STM32MP157 (STM), it includes following components:
VisionCB-STM32MP1-STD
VisionSOM-STM32MP1
LCD-TFT Display
Power Supply
Ethernet and USB Cable
Antenna
Starter Kit for STM32MP1 (STM), it includes following components:
VisionCB-STM32MP1-STD
VisionSOM-STM32MP1

VisionSOM-STM32MP1 (SLS18)
STM32MP1 STM ARM Cortex-A7 dual cores and ARM Cortex-M4 industrial SoM computer
SLS
1
8
MP157C
_
650C
_
512R
_
uSD
_
0SF
_
C