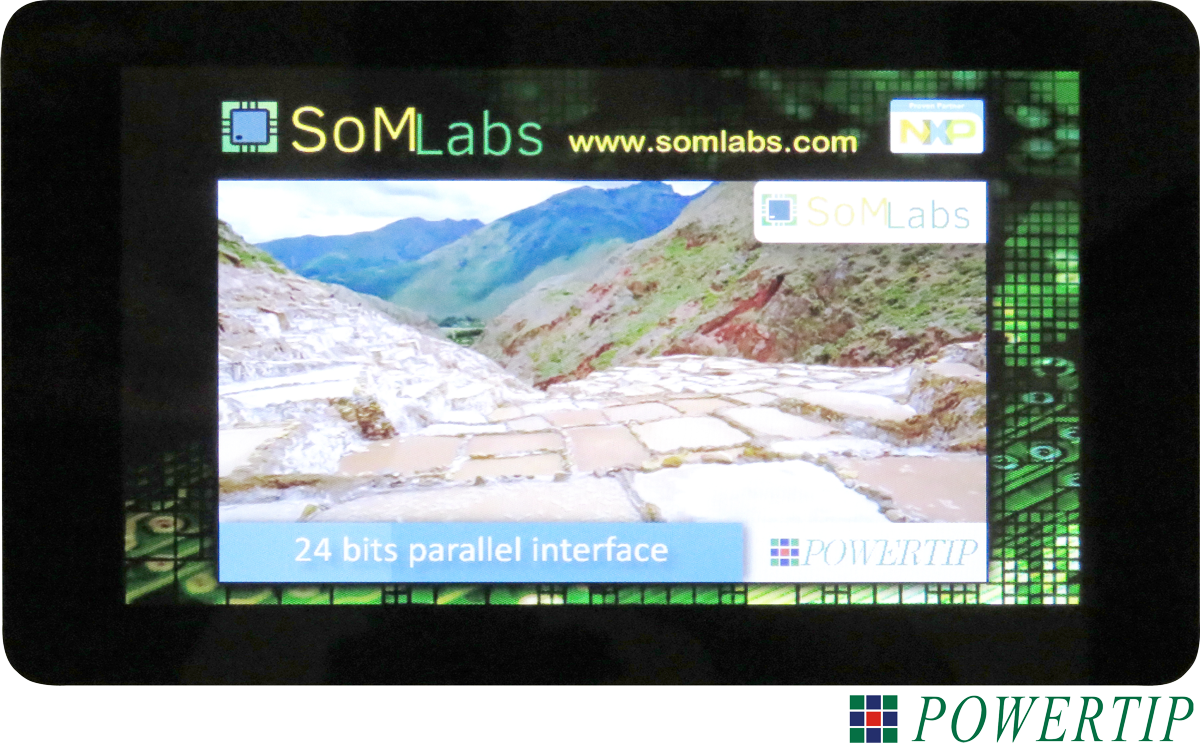 SL-TFT7-TP-800-480-P
7 inch LCD-TFT module (PH800480T013) with touch capacitive panel controller and integrated DC/DC converters
Screen size 7 inch
Display matrix size 800×480 px
LCD-TFT RGB technology
Parallel display interface (24 b RGB)
Built-in capacitive touch panel and TP controller
Bulit-in LED backlight
Single +3.3V rail power supply
Operating temperature -20÷+70°C
Fully compatible with VisionCB-STD (FPC A-A cable)
Buy online
SL-TFT7-TP-800-480-P is display module based on PH800480T013 Powertip high quality 7 inch RGB LCD-TFT display module with built-in capacitive touch panel and integrated touch panel controller (I2C). Module SL-TFT7-TP-800-480-P contains all DC/DC  converters that are necessary for single rail power supply (+3.3V).
LCD-TFT display matrix size is 800×480 pixels (RGB, 24 bits), communication and data interface are TTL-LV (3.3V) compatible.
FPC 50-pin 15-cm flat cable (A-A) is included.
Features
SL-TFT7-TP-800-480-P
Module
Input voltage
single +3.3V/<860 mA (incl. backlight)
Video and TP interface voltage
3.3V
Default scanning configuration
U2D, L2R
Default dithering function
ON
Display
Screen size
7 inch
Resolution
800 x 480 px (RGB)
Display active area
154.08 x 85.92 mm
Operating temperature
-20÷+70°C
Graphic interface
parallel 24 b + H + V (3.3V)
Display module
Powertip PH800480T013-IBC17
Touch panel
Type
Capacitive
Controller
FT5426
TP interface
I2C (3.3V)
Mechanical Dimension
Module size
192.96 x 110.76 x 10.8 mm
Mechanical Connector
Connector
FPC50, 1:1 compatible with:
VisionCB-6ULL-STD v.2.0,
VisionCB-6ULL-IND v.1.0,
VisionCB-RT-STD v.1.0
SL-TFT7-TP-800-480-P
7 inch LCD-TFT module (PH800480T013) with touch capacitive panel controller and integrated DC/DC converters
Carrier Board (CB) for the VisionSOM-6ULL with following main features:
SODIM200 Interface
2xUSB 2.0
1x 10/100 Mbits Ethernet
RGB Display Connector
Arduino Connector
Carrier Board (CB) for the VisionSOM-RT with following main features:
SODIM200 Interface
2xUSB 2.0
1x 10/100 Mbits Ethernet
RGB Display Connector
Arduino Connector
Carrier Board (CB) for the VisionSOM-6ULL with following main features:
SODIM200 Interface
2xUSB 2.0
1x 10/100 Mbits Ethernet
RGB Display Connector
Embedded Real-Time Clock
Industrial Temperature Range