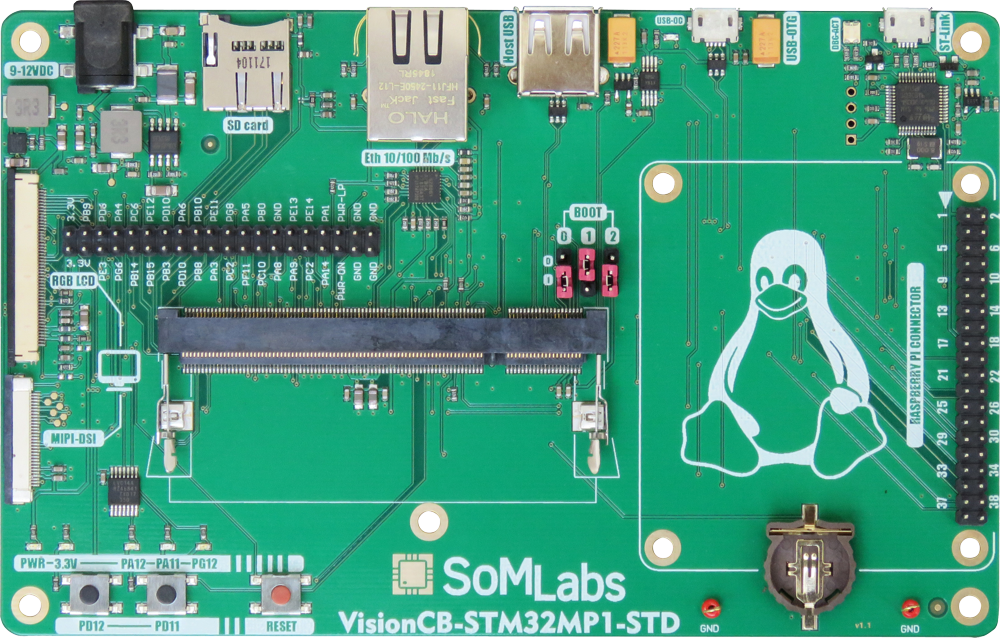 VisionCB-STM32MP1-STD
Carrier Board for VisionSOM System-on-Module family
Carrier Board (Base Board) compatible with the VisionSOM-STM32MP1 family of modules
Ready-to-use development systems for building applications based on the VisionSOM-STM32MP1 modules
Built-in ST-Link/V2-1 SWD debugger
MIPI-DSI (2 lanes) and parallel LCD interface
Built-in microSD card connector
Communication interfaces (USB 2.0 host and client, 100 Mbit Fast Ethernet)
Well-suited for applications in industrial automation
Raspberry Pi compatible connectors
Ideal for industrial IoT and embedded applications
Buy online
VisionCB-STM32MP1-STD is a carrier board for the VisionSOM-STM32MP1 (STM32MP157) family of computer-on-modules which are powered by STMicroelectronics SOC STM32MP1 (dual core ARM Cortex-A7 + single Cortex-M4). A carrier board, together with a System on Module (SoM), makes a complete development platform similar to SBC. The carrier board houses the most common interfaces such as USB, Ethernet, etc. A large variety of interfaces allows to use it as both a complete development platform or as a stand-alone end-product.
The carrier board connects with the SoM via a standard SODIMM connector.
VisionCB-STM32MP1-STD is equipped with  ST-Link/v2-1 SWD debugger and Linux serial console port on USB vCOM.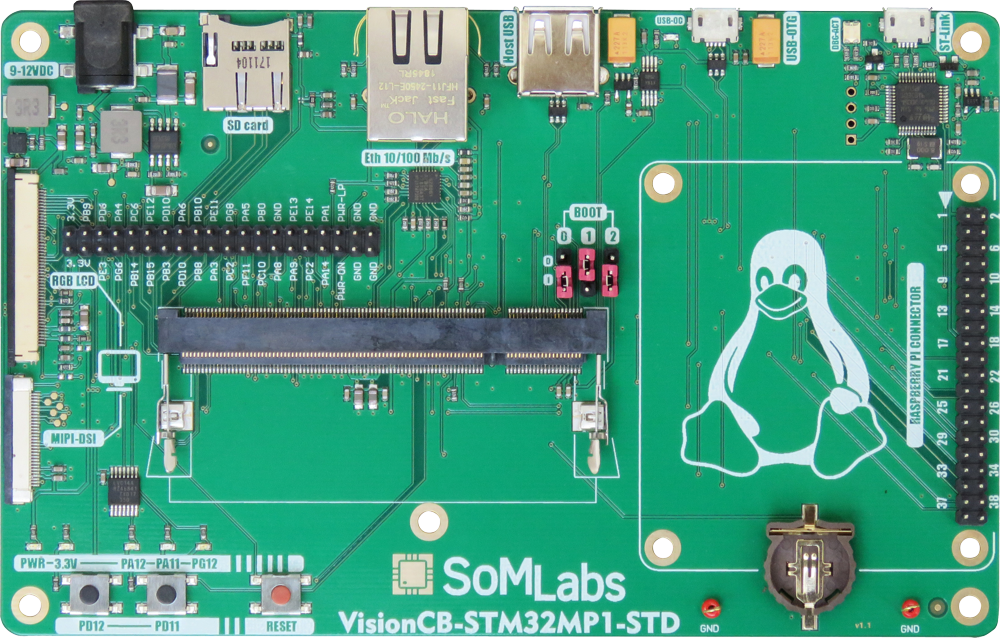 Features
VisionCB-STM32MP1-STD
SoM Interface
SoM Interface
SODIMM200
SoM Type
VisionSOM family of modules based on STMicroelectronics dual Cortex-A7 and single Cortex-M4 core STM32MP1
Programming/Debug Connectors
Built-in ST-Link/v2-1 SWD debugger
Expansion Connectors
Raspberry Pi compatible connectors
2x20 Pin Header (Male, 33 GPIOs)
SD card
dedicated MicroSD connector
Communication Connectors
Ethernet
10/100Mbit/s, RJ45
USB Host
Type A connectors
USB-OTG
MicroUSB connector
Console
MicroUSB connector
Display
Parallel interface
50-pin FFC/FPC Parallel RGB – 24-bit
MIPI-DSI interface
30-pin FFC/FPC connector
User Interface
3 Pushbuttons
5 LEDs
Power Supply
DC connector
Input Voltage 9-12V DC
RTC battery
Socket for CR1220
Temperature Range
Consumer
0 to +70°C
Mechanical Dimension
Board Size
160mm x 100mm x 17mm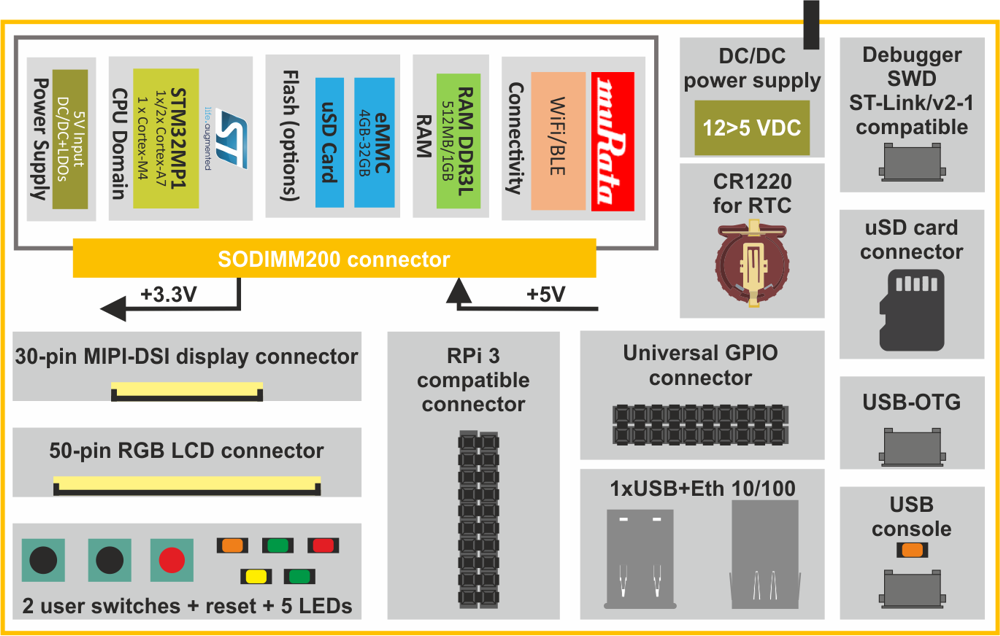 VisionCB-STM32MP1-STD
Carrier Board for VisionSOM System-on-Module family
Compact Switching DC Power Supply 12V/2A with DC 5.5×2.1 connector and EU/UK/USA/AUSTRALIA adapters
7 inch LCD-TFT module (made by Powertip) with integrated LED backlight and capacitive touch panel. Module is equipped with DC/DC converters that allows to work with single power rail +3.3V.
The VisionSOM-STM32MP1 family is a SODIMM-sized SoM based on the STMicroelectronics STM32MP1 application processor which features a heterogeneous single or dual ARM Cortex-A7 cores (at speed up to 800MHz) together with an ARM Cortex-M4 core (at speed up to 209MHz) and GPU compatible with Open GL 2.0 ES standard