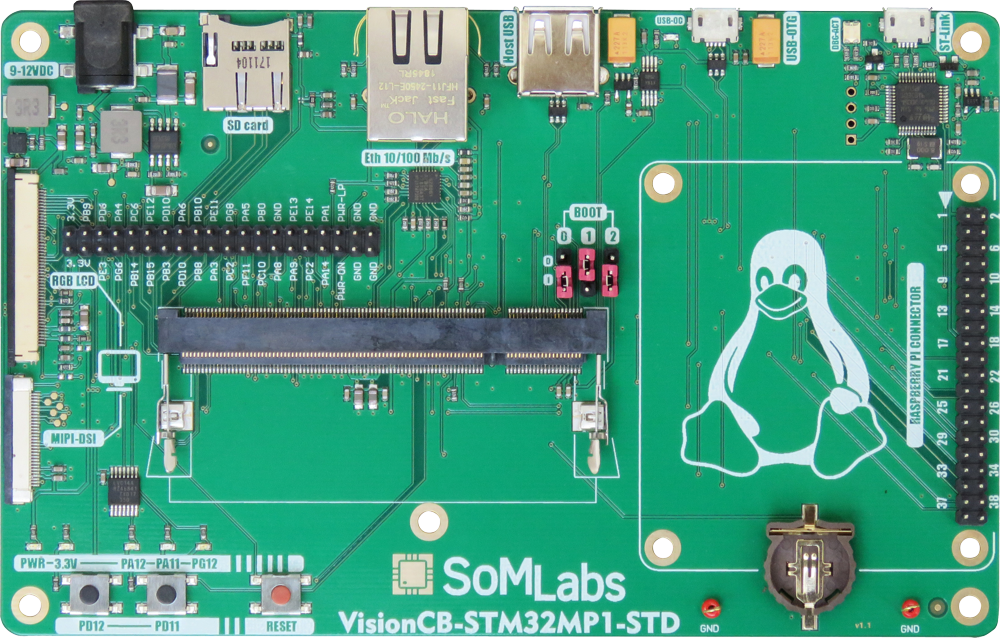 VisionCB-STM32MP1-STD
Carrier Board for VisionSOM System-on-Module family
Carrier Board (Base Board) compatible with the VisionSOM-STM32MP1 family of modules
Ready-to-use development systems for building applications based on the VisionSOM-STM32MP1 modules
Bulit-in ST-Link/V2-1 SWD debugger
MIPI-DSI (2 lanes) and parallel LCD interface
Bulit-in microSD card connector
Communication interfaces (USB 2.0 host and client, 100 Mbit Fast Ethernet)
Well-suited for applications in industrial automation
Raspberry Pi compatible connectors
Ideal for industrial IoT and embedded applications
Buy online
VisionCB-STM32MP1-STD is a carrier board for the VisionSOM-STM32MP1 family of computer-on-modules which are powered by STMicroelectronics SOC (dual core ARM Cortex-M7 + single Cortex-M4). A carrier board, together with a System on Module (SoM), makes a complete development platform similar to SBC. The carrier board houses the most common interfaces such as USB, Ethernet, etc. A large variety of interfaces allows to use it as both a complete development platform or as a stand-alone end-product.
The carrier board connects with the SoM via a standard SODIMM connector.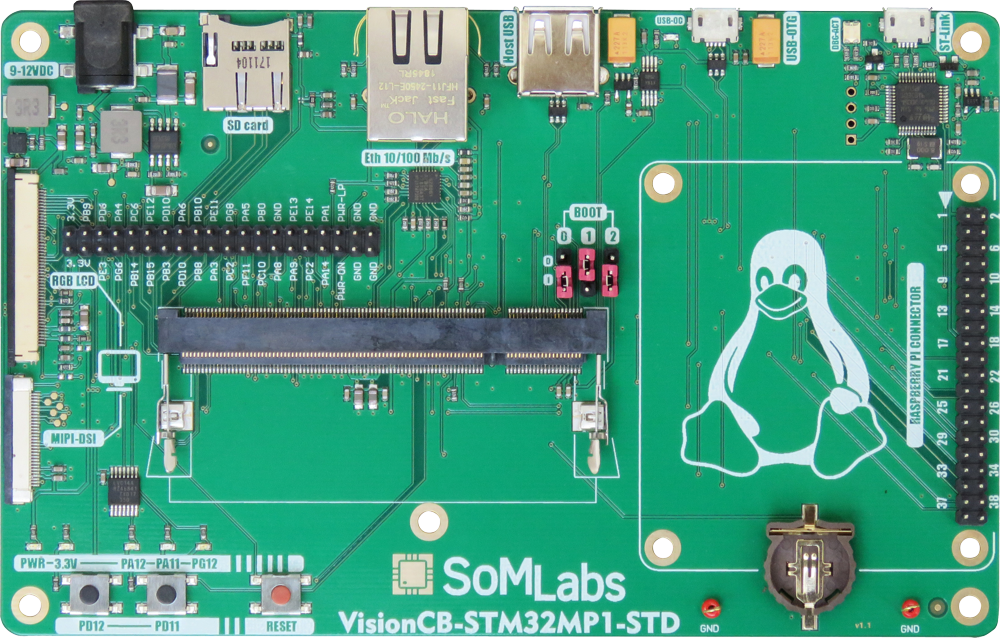 Features
VisionCB-STM32MP1-STD
SoM Interface
SoM Interface
SODIMM200
SoM Type
VisionSOM family of modules based on STMicroelectronics dual single and core STM32MP1
Programming/Debug Connectors
Built-in ST-Link/v2-1 SWD debugger
Expansion Connectors
Raspberry Pi compatible connectors
2x20 Pin Header (Male)
GPIO universal connector
2x 20 Pin Header (Male, 33 GPIOs)
SD card
dedicated MicroSD connector
Communication Connectors
Ethernet
1x 10/100Mbit/s, RJ45
USB Host
1x Type A connectors
USB-OTG
1xMicroUSB B
Console
1x MicroUSB B connector
Display
Parallel interface
50-pin FFC/FPC Parallel RGB – 24-bit
MIPI-CSI interface
30-pin FFC/FPC connector
User Interface
3 Pushbuttons
5 LEDs
Power Supply
DC connector
Input Voltage 9-12V DC
RTC battery
Socket for CR1220
Temperature Range
Consumer
0 to +70°C
Mechanical Dimension
Board Size
160mm x 100mm x 17mm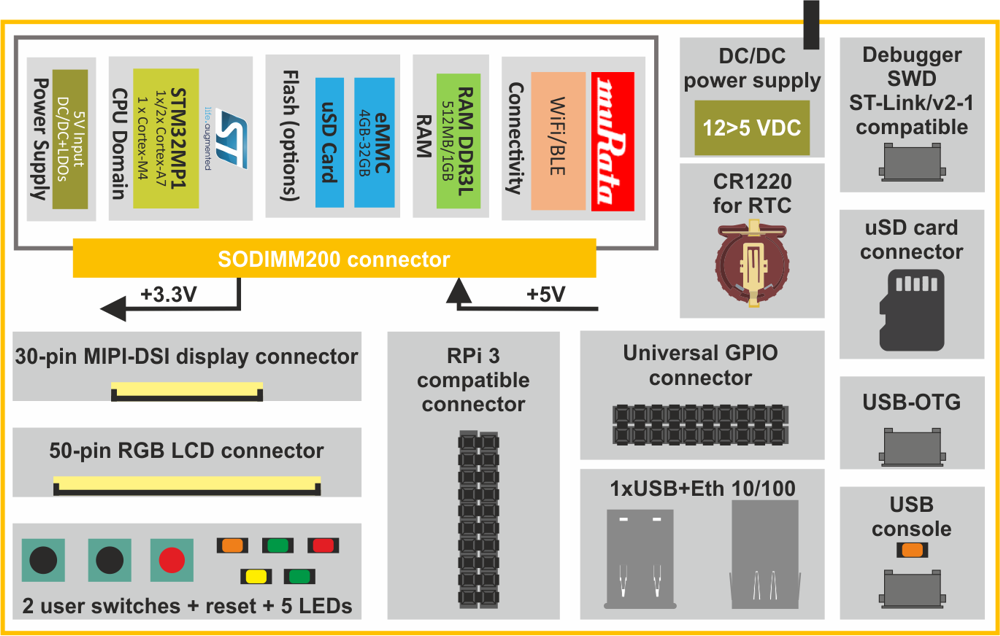 VisionCB-STM32MP1-STD
Carrier Board for VisionSOM System-on-Module family
Compact Switching DC Power Supply 12V/2A with DC 5.5×2.1 connector and EU/UK/USA/AUSTRALIA adapters
7 inch LCD-TFT module (made by Powertip) with integrated LED backlight and capacitive touch panel. Module is equipped with DC/DC converters that allows to work with single power rail +3.3V.
The VisionSOM-STM32MP1 family is a SODIMM-sized SoM based on the STMicroelectronics STM32MP1 application processor which features a heterogeneous single or dual ARM Cortex-A7 cores (at speed up to 800MHz) together with an ARM Cortex-M4 core (at speed up to 209MHz) and GPU compatible with Open GL 2.0 ES standard