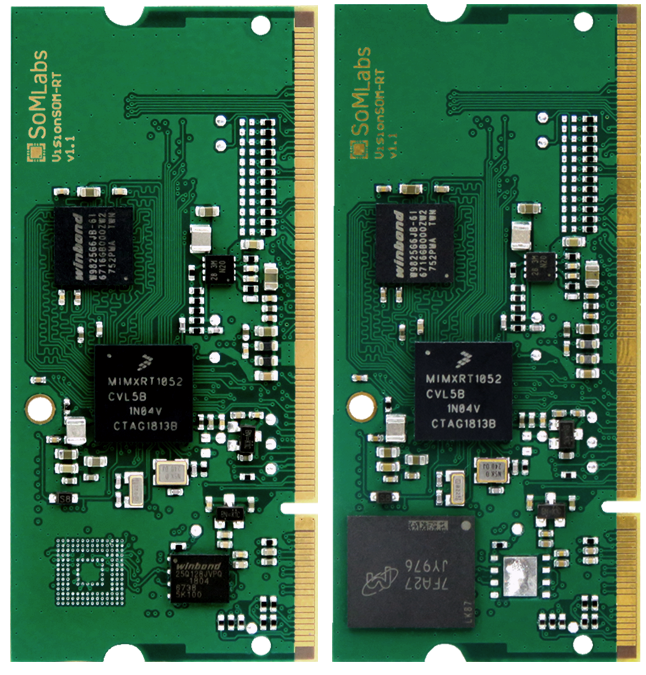 VisionSOM-RT (SLS12Rx)
i.MX RT ARM Cortex-M7 single core industrial SoM computer
Powered by NXP i.MX RT processor
ARM Cortex-M7 core
Core clock up to 600MHz
512kB on-chip RAM memory
256Mb (32MB) SDRAM memory
128Mb (16MB) QuadSPI Flash memory
Optional 4GB eMMC memory
Power-efficient and cost-optimized solution
Ideal for industrial IoT and embedded applications
FreeRTOS support
The VisionSOM-RT family is a SODIMM-sized SoM based on the NXP i.MX RT processor which features a high-performance microcontroller implementation of a single ARM Cortex-M7 core (at speed up to 600MHz) and real-time functionality.
The VisionSOM-RT is a low power highly integrated SoM (System-on-Module) featuring high computation performance, real-time functionality and MCU usability. High security enabled by AES-128, HAB and On-the-fly QSPI Flash Decryption together with  2D graphical acceleration make an ideally suited solution for home and industrial control systems, wireless application,  communication solutions and real-time systems.
Preliminary info – product will be available in November 2018.
Features
VisionSOM-RT
CPU
CPU Name
NXP i.MX RT
CPU Type
Cortex-M7
CPU Cores
1
CPU Clock (Max)
600MHz
Memory
SDRAM
up to 256Mb (32MB)
Flash
up to 128Mb (16MB) QuadSPI
eMMC
4GB optional
Display
Interface
Parallel RGB – 8/16/24-bit, up to 1366 x 768, WXGA
GPU
Graphics Acceleration
NXP PXP 2D Graphics Accelerator for LCD-TFT
Graphics Engine PXP - PiXel processing pipeline for imagine resize, rotation, overlay and color space conversion
Networking
Ethernet
10/100Mbit/s (requires external Ethernet PHY)
Connectivity
RTC
Built-in (requires external battery)
I2C
up to 4 channels
SPI
up to 4 channels
CAN
up to 2 FlexCAN
UART
up to 8 channels
USB
2x USB 2.0 OTG
ADC
2x12 ADC modules (up to 16 input channels)
Audio
Audio interfaces
I2S/SAI x3, S/PDIF Tx/Rx
Security
Advanced Security
High Assurance Boot (HAB), True random number generation (TRNG)
Data Co-Processor (DCP)
AES-128, ECB, CBC mode, SHA-1, SHA-256, CRC-32
Bus Encryption Engine (BEE)
AES-128, ECB, CTR mode, On-the-fly QSPI Flash decryption
OS Support
FreeRTOS
Temperature Range
Industrial
–40 to +85°C
Power Supply
Input Voltage
5V DC
Mechanical Dimension
SOM Size
67mm x 32mm x 4mm
Mechanical Connectors
SoM Footprint
SODIMM200
Other
Altium Designer's library file is available for all SoM variants (SCH and PCB)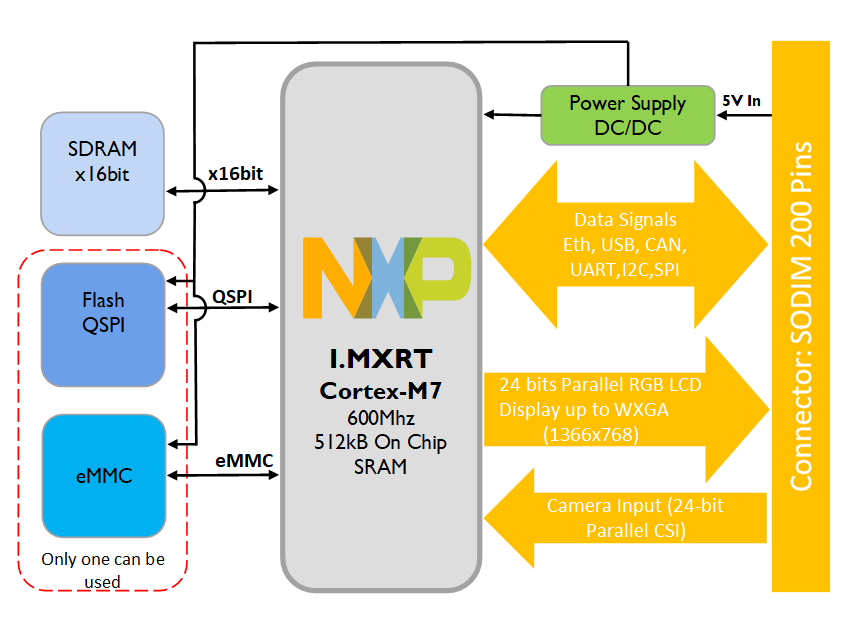 VisionCB is a carrier board for the VisionSOM family of computer-on-modules which are powered by NXP i.MX 6UL or i.MX 6ULL application processors (ARM Cortex-A7)