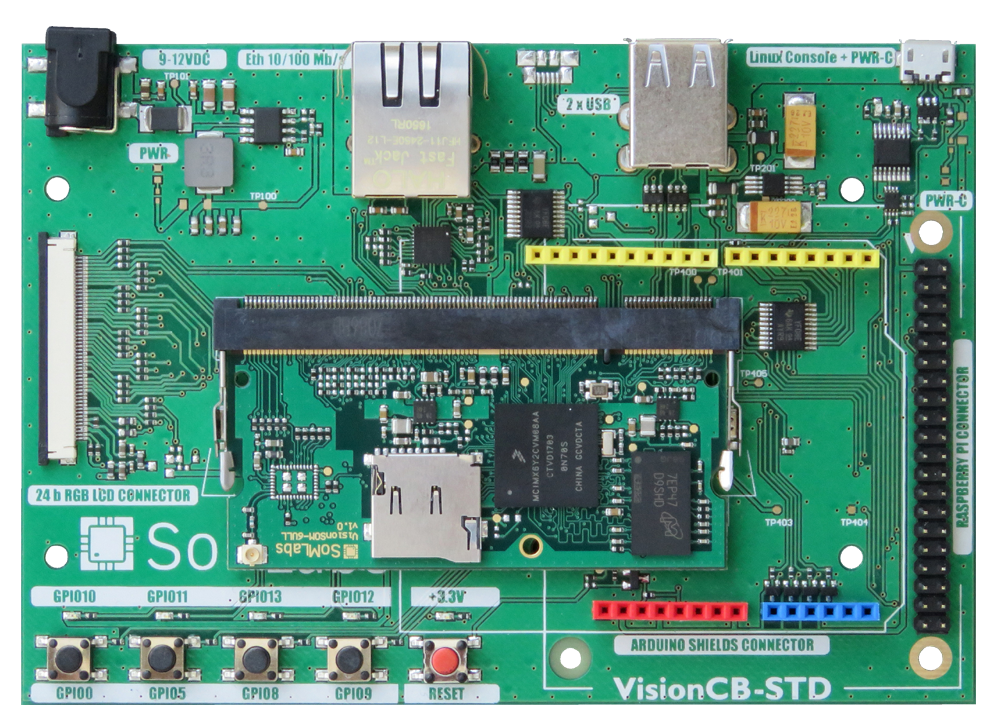 VisionSTK-uSD
VisionSTK-eMMC
VisionSTK-NAND
Starter Kit for VisionSOM System on Module family
Starter kit is comprised of a Carrier Board (Base Board) and the VisionSOM module
Ready-to-use development systems for building applications based on the VisionSOM modules
Communication interfaces (USB 2.0 host and client, 100 Mbit Fast Ethernet)
Arduino Uno Rev. 3 and Raspberry Pi compatible connectors
Buy online
VisionSTK is a starter kit for the VisionSOM family of computer-on-modules (powered by NXP i.MX 6ULL application processors). The kit is comprised of a carrier board (VisionCB-STD) with a processor module (VisionSOM-6ULL).
The VisionCB-STD carrier board houses the most common interfaces such as USB, Ethernet, etc. A large variety of interfaces allows to use it as both a complete development platform or as a stand-alone end-product.
The VisionSOM-6ULL SoM module in VisionSTK features: NXP i.MX 6LL Y2 processor (single core ARM Cortex- A7 @ 792MHz), 512MB RAM memory and Murata 802.11b/g/n Wi-Fi and Bluetooth v4.1+EDR module. Depending on application's needs the VisionSOM-6ULL SoM module can feature one of storage memory type: microSD socket, 512MB NAND Flash or 32Gb eMMC.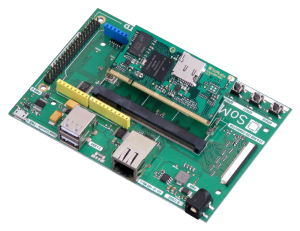 Evaluation Boards for VisionSOM modules
Ordering Part Number

VisionSTK-uSD

VisionEVK-uSD

SLS16Y2_792C_512R_SD_1WB_SI_A
(VisionSOM-6ULL module)
Microprocessor: NXP i.MX6ULL Y2 Cortex-A7 792MHz (MCIMX6Y2CVM08AA)
RAM: 512MB DDR3L (Micron MT41K256M16TW-107 or equivalent)
Flash: microSD socket
WiFi/BLE: Murata LBEE5KL1DX

Ordering Part Number

VisionSTK-NAND

VisionEVK-NAND

SLS16Y2_792C_512R_512N_1WB_SI_A
(VisionSOM-6ULL module)
Microprocessor: NXP i.MX6ULL Y2 Cortex-A7 792MHz (MCIMX6Y2CVM08AA)
RAM: 512MB DDR3L (Micron MT41K256M16TW-107 or equivalent)
Flash: 512MB NAND (Micron MT29F4G08ABAEAWP or equivalent)
WiFi/BLE: Murata LBEE5KL1DX

Ordering Part Number

VisionSTK-eMMC

VisionEVK-eMMC

SLS16Y2_792C_512R_04GE_1WB_SI_A
(VisionSOM-6ULL module)
Microprocessor: NXP i.MX6ULL Y2 Cortex-A7 792MHz (MCIMX6Y2CVM08AA)
RAM: 512MB DDR3L (Micron MT41K256M16TW-107 or equivalent)
Flash: 4GB eMMC (Micron MTFC4GACAJCN-1M WT or equivalent)
WiFi/BLE: Murata LBEE5KL1DX

Carrier Board

VisionCB-STD

VisionCB-STD

7inch LCD display

–

+

USB Debug Cable

–

+

Ethernet Cable

–

+

12V Power Supply

–

+

WiFi-Bluetooth Antenna

–

+

Boot SD Card

–

+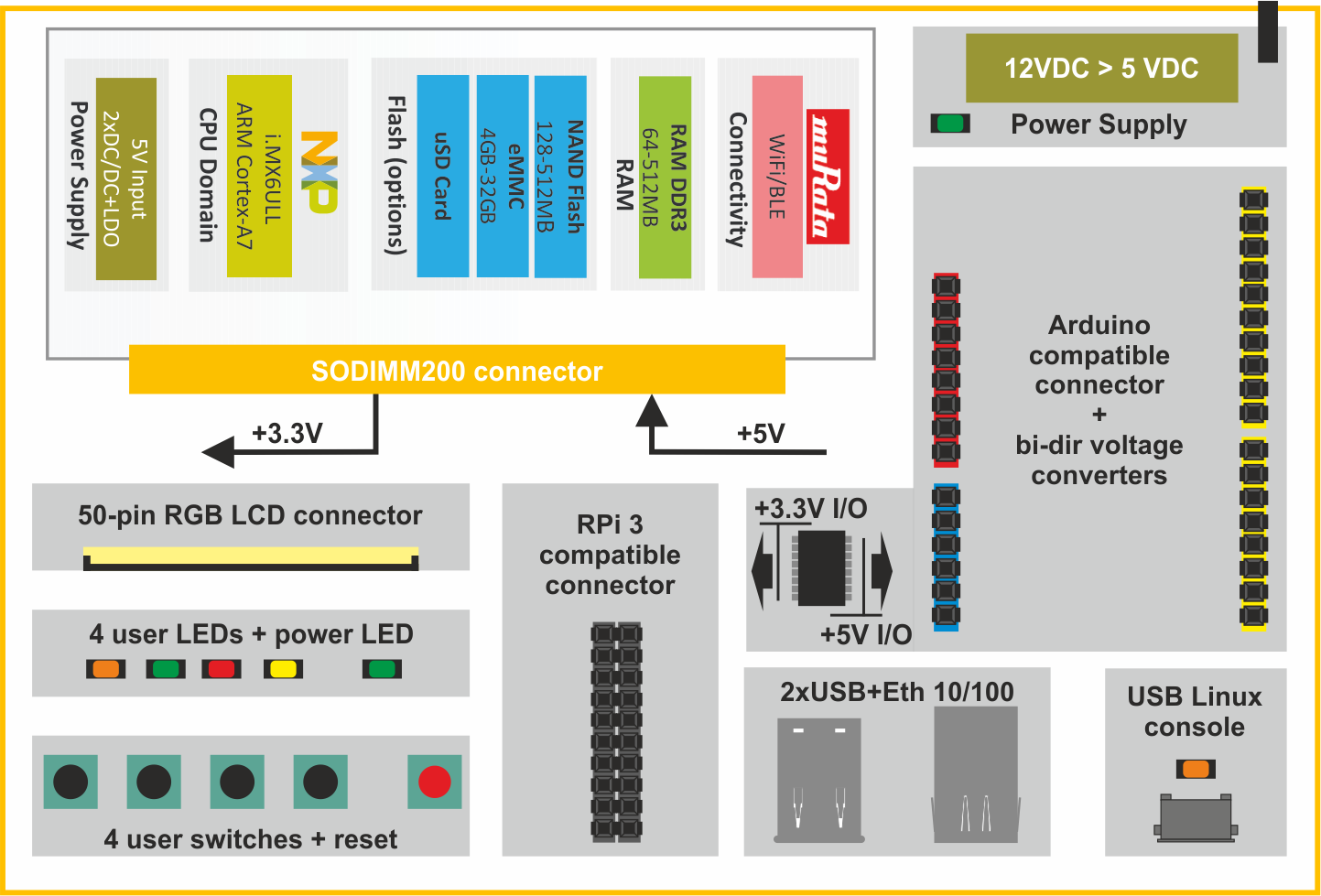 VisionSTK-uSD
VisionSTK-eMMC
VisionSTK-NAND
Starter Kit for VisionSOM System on Module family